The Newport Area
The Newport area is a popular destination for visitors. The many ancient Celtic monuments, such as Pentre Ifan Burial Chamber near Brynberian and Castell Henylls Iron Age Hill Fort near Felindre Farchog, are steeped in history and the long distance coastal path, with its abundance of wild flowers and secret sheltered coves flank many of the communities situated along the coast. There are many inland walks and trails which link the coastland to the inland communities and higher ground e.g. to the heights of Carn Ingli.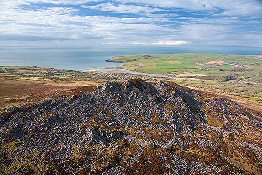 © Crown copyright (2010) Visit Wales
There is a strong sense of pride in local heritage features such as the "bleeding" yew tree in Nevern Churchyard, Newport Castle and Pencastell Iron Age Fort and traditions such as the the people in the hamlets of Pontfaen and Llanychaer still celebrating New Year's Day on 13th January according to the old Julian calendar. The beauty of the communities' historic surrounding, natural built environment and the picturesque countryside and coast can be enjoyed with good walking, riding and cycling routes that link some of the communities and is the primary reason why people want to live, visit and stay here.

The sea has always played an important part in the lives of the people in this area. Newport Parrog, Cwm yr Eglwys and Pwllgwaelod were once lively sea ports, evidence can still be seen today in the Welsh name for Newport, "Trefdraeth" meaning "the township on the shore", as well as in the architecture of the grand sea captain houses found in both Dinas and Newport. Shipbuilding, fishing, slate quarrying, coastal trading and lime burning were important industries in the past.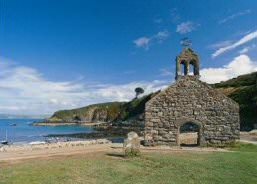 The abrupt and rugged coast of Moylegrove attracts a diverse range of wildlife. The local environment is regarded as a great asset by residents, among its special features are 'red kites, seals, geology, wildlife and flowers'.
Newport Beach has attracted many a visitor over the centuries and became the annual venue for the game of 'Cnapan'. This area of Nevern is where the south facing fertile land traditionally provided grain for the Newport community. At the end of the 16th century, Newport Bridge which links the town with Nevern had six arches, built of stone, was demolished because the townspeople believed that the "sweating sickness" that had decimated their numbers was carried to them by the inhabitants across the river. The huge stepping stones (which probably predated even that bridge) were used for crossing thereafter and are still visible at low tide to this day.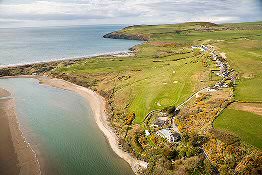 © Crown copyright (2010) Visit Wales